Calibration equipment
Whether in the laboratory, in your factories or on site, with the portable calibrators for temperature, humidity and pressure from Testo Industrial Services you can carry out your calibrations independent of time and location.
With a calibrator you are able to calibrate your measuring instruments yourself. This allows you to check whether your measuring equipment meets its specification or relevant standard. This means that you can guarantee the quality of your measurement technology at all times. For a reliable and accurate calibration, the selection of the appropriate calibration device is crucial. Whether on-site at your premises, in your workshop, in the laboratory or in the measuring and test room, Testo Industrial Services provides you with a suitable selection of calibration equipment: The portable calibrators Thermator II, Huminator II and Pneumator.

Benefit from our years of experience as a DIN EN ISO/IEC 17025:2018 accredited laboratory. We will be pleased to support you in selecting the right calibration equipment for your test equipment.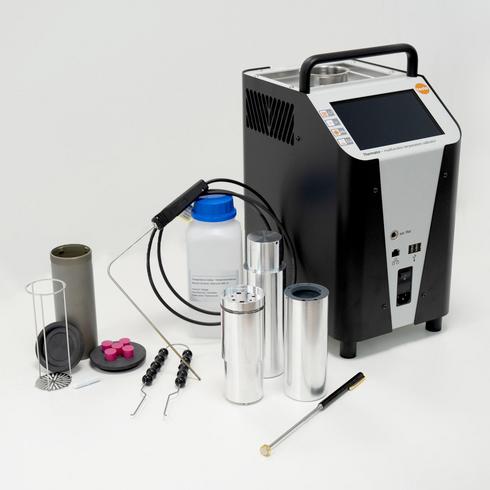 Thermator II
The Thermator II can be used as a stationary as well as a portable multi-function temperature calibrator. It is flexible for carrying out temperature calibrations of all types. With the Thermator II, you can conduct manufacturer-independent calibrations of infrared measuring instruments, thermal imaging cameras as well as air, immersion and surface sensors. By selecting the four different operating modes, you can easily switch between dry block, liquid bath, infrared and surface functions. The specific inserts ensure easy and quick handling.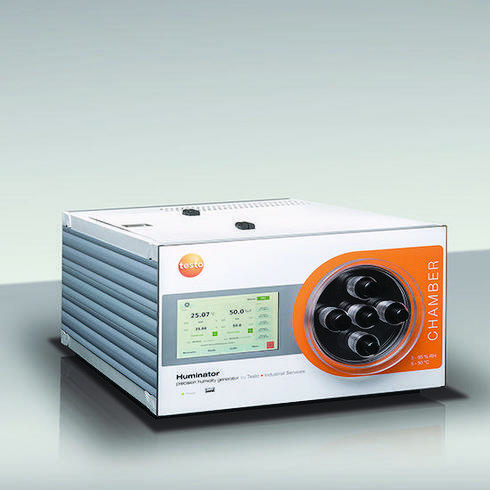 Huminator II
The Huminator II is a compact and portable calibration system for manufacturer independent humidity calibration of your measuring instruments. The large measuring chamber with a diameter of Ø 160 mm enables the parallel calibration of up to 5 probes or loggers in a measuring range of 5 to 95 %RH at 5 to 50 °C. The time-based programming function allows extensive automation of calibrations. Up to 10 humidity/temperature values per measuring program can be generated automatically one after the other and the stability time can be freely selected. The integrated reference probe reduces your downtime and enables quick recalibration.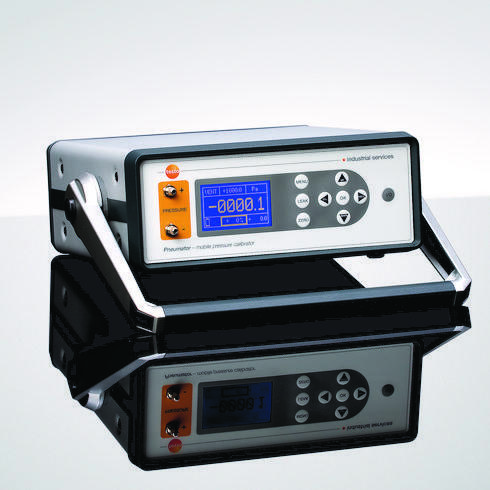 Pneumator
The Pneumator can be used flexibly as a calibrator or precision measuring instrument, both stationary and mobile. Thus, the Pneumator serves both as a reference measuring device (with whose value the test specimen is compared) and as a pressure transducer. You can choose between 4 types with a pressure range of 1, 10, 100 or 1000 hPa. These various operating modes are available: Calibration, relative and differential pressure measurement, flow measurement and volumetric flow measurement. The differential pressure sensor used for this purpose operates absolutely wear-free, has long-term stability and is overload proof.