Our measured variables
We are your experts for calibration and test equipment management. Our accredited laboratories cover almost all measurands and offer you a unique service portfolio from calibration to repair.
We offer calibration of all your measuring instruments from a single source. Whether torque wrench, thermometer or caliper: We calibrate almost all measurands. With our extensive accreditation, we offer you very wide calibration ranges with the smallest measurement uncertainties. We work independently of manufacturers and thus offer you more service and more security.
Electrical
Testo Industrial Services is characterized by a broad scope of accreditation and the lowest measurement uncertainties for electrical calibrations. Whether in the low or high frequency range, EMC sizes or even high-precision reference measurement technology - we calibrate electrical test equipment from all manufacturers. High-standard equipment and employees with the highest metrological know-how guarantee quality during calibration.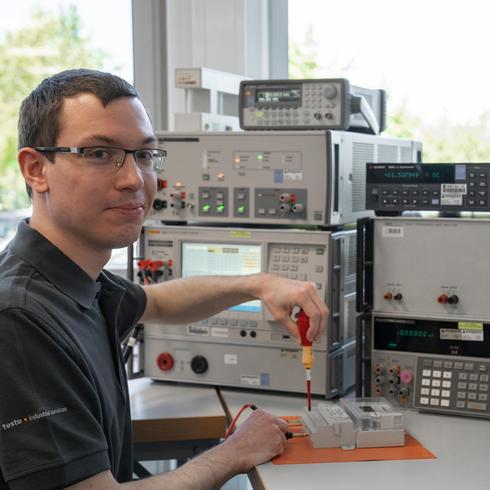 In the calibration of electrical measurands, we specialize in the following measuring instruments, among others:
Digital multimeters up to 8.5 digits
Current clamps and transformers up to 1000 A
LCR measuring bridges and NI measuring cards
Power meters
Oscilloscopes
Spectrum and network analyzers
Signal generators
Passive reflection standards
EMI & EMC measuring receiver
ESD guns/generators with different discharge networks
Reference calibrators
Thermodynamics
We are your expert for the calibration of thermodynamic measuring instruments. The thermodynamic laboratory of Testo Industrial Services is characterized not only by the lowest measurement uncertainties but also by a comprehensive portfolio for the calibration of the measurands temperature, surface temperature and humidity. In addition, we calibrate your high-quality reference standards at the highest metrological level in our primary laboratory for temperature.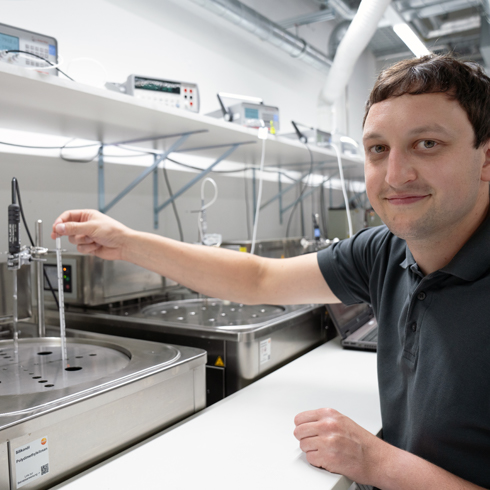 In the thermodynamic field we are specialized in the following measuring equipment:
Glass thermometer
Data logger, transmitter
Block calibrators
PT100, Thermocouple, NTC
Thermal imaging cameras
Infrared measuring devices
Surface temperature sensor
Dew point mirror
Pressure Dew Point Meter
Fixed point cells
Resistance thermometer
Mechanics
Testo Industrial Services is characterized by an extensive mechanical laboratory specialized in the calibration of pressure (dynamic and static), torque, angle of rotation, force and acceleration measurement technology. High-precision and modern measuring equipment ensure traceable and manufacturer-independent calibration of your mechanical test equipment.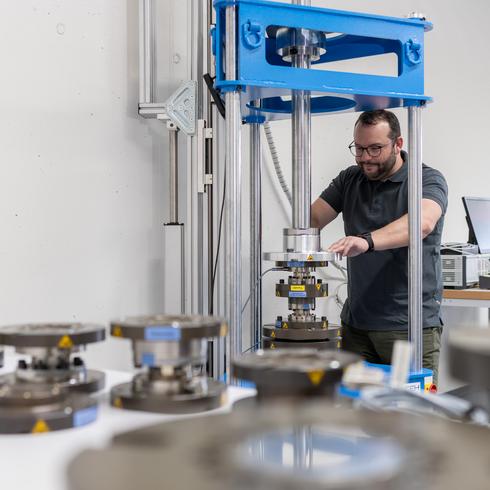 Within the mechanical measurands, we are specified on the following measuring devices, among others:
Digital and analog pressure test equipment
Piezoelectric, -resistive and -capacitive sensors
Torque wrenches, screwdrivers and sensors
Torque sensors with angle option
Force gauges and transducer
Vibration transducers, calibrators and meters
Flow rate
In our calibration laboratory for flow meters, we carry out manufacturer and media independent calibrations of gaseous and liquid media as well as flow and volumetric flow meters. Specially designed liquid and gas calibrators guarantee you rapid calibration of different flow rates and media. In addition, we are specialized in the calibration of flow and volumetric flow meters through the years of experience of the entire Testo Group.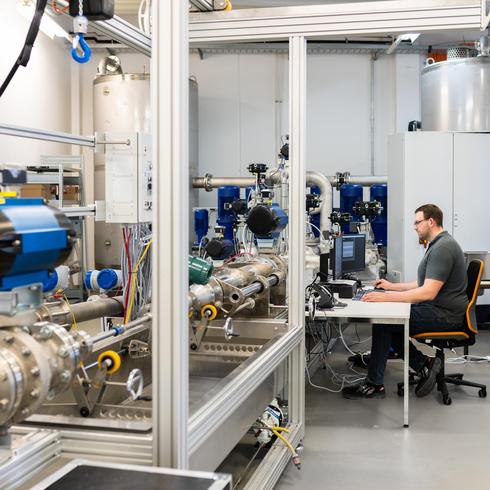 In the field of flow measurement, we specialize in the following measurement devices:
Gear counter
Spindle flow meter
Coriolis flow meter
Piston flow meter
Laminar Flow Element
Thermal mass flow meters
Impeller anemometer
Volumetric flowmeter
Dimensional
In our dimensional calibration laboratory, we calibrate your length testing equipment with the highest precision. These include indicating gauges, measuring standards, test equipment and angles. In addition, we can calibrate and inspect your special and gear test equipment with our 2D/3D coordinate measuring technology and CT scanning. Furthermore, we are characterized by our long-standing partnership with Keyence, which enables the accredited calibration of optical measuring instruments directly at your premises.
In our dimensional laboratory we are specified on the following measuring equipment:
Calipers
Outside micrometers
(Threaded) plug gauges / rings
Gauge blocks
Special gauges
Gear gauges
Optical measuring microscopes and profile projectors
Acoustics
The calibration laboratory for acoustic measurands of Testo Industrial Services excels in the calibration of measuring microphones and sound level meters. We measure sound in the free-field or pressure chamber. We also offer acoustic calibrations of pistonphones and calibrators.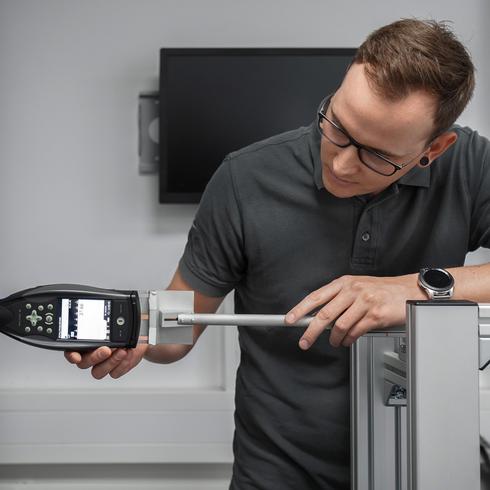 We are specialized in the following acoustic measuring instruments:
Pressure chamber microphones
Diffuse-field microphones
Measuring microphones
Sound level meters
Calibrators
Pistonphones

Analytics
An extensive and fully equipped analytical calibration laboratory is part of Testo Industrial Services. Calibrations in the field of gas analyses and other chemical analyses are carried out by us completely independent of manufacturers. Our DAkkS accreditation in the analytical laboratory covers chemical and medical measurands in the field of conductivity and for pH values.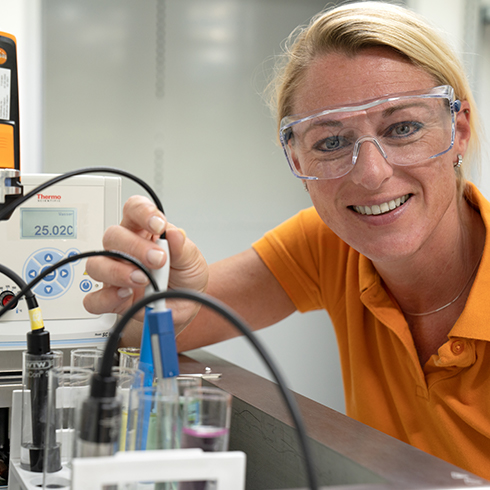 Within the analytical metrology we are specialized in the following measuring instruments:
Flue gas measuring devices
CO probes, CO meters
CO2 probes, CO2 meters
Refrigerant and gas leak tester
Conductivity meters
pH meters
Frying oil measurement